Paying At Branscombe Beach Car Park
Paying to Park at Branscombe Beach Car Park
it costs £1 per hour to park at Branscombe Beach Car Park:


It is £1 per Hour to Park At Branscombe Beach Car Park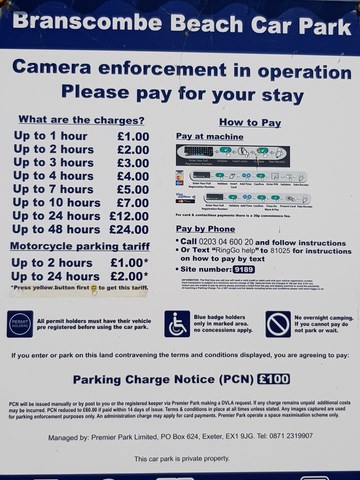 All information considered correct June 2020. Please check for any changes on arrival.
We cannot be held responsible for any errors or omissions.


This Car Park operates on a ANPR camera that will record your registration plate

on entry

and exit and match that to your payment.

There is no leeway

, if you pay to park for one hour and leave after one hour and five minutes you will get a fine through the post.
BUT
You can "Top Up" before you leave. So say you pay for one hour but actually end up over-staying by (say) five minutes just buy a second hour and save yourself getting fined.



IMPORTANT: YOUR TIME STARTS FROM THE MINUTE YOU DRIVE IN
So if you arrive and spend ten minutes sorting our your car/phone/children in the car and then go and pay the time actually started from the moment you entered and not the moment you pay.
Also (sadly) if you drive around the car park for several minutes looking for a space and don't find one you are better off to pay the fee for one hour rather than risk the fine!
People have reported problems when paying by card or phone. You are therefore advised to pay by CASH (£1 coins) and

ensure you get a receipt/ticket from the machine

.
ENTER YOUR REGISTRATION NUMBER CORRECTLY!
You are strongly advised to send a responsible adult to buy the ticket and enter the registration number, perhaps the person who would end up paying the fine if it is not entered correctly, then there can be no argument later!



CHECK AND DOUBLE CHECK EVERYTHING



If you check and find you have not got your

full

registration number

in correctly pay again and buy another ticket.
DO NOT BE LATE BACK, NOT EVEN A MINUTE OR TWO



Just pay for an extra hour if you are a few minutes late back (enter your full registration again, and make sure it is in correctly).
THERE IS A SURCHARGE OF AROUND 30P TO PAY BY CARD





Make sure you ALWAYS get a receipt

. If trying to pay by card no receipt from the machine means you have not paid, no matter how many "beeps" you hear!
"BLUE BADGE" PARKING IS NOT FREE
You have to pay as normal
---
You can if you really want to pay by phone or text using RingGo. The car park has a reference code of 9189.

Users have reported a very poor phone signal in the area. It might be better actually on the beach.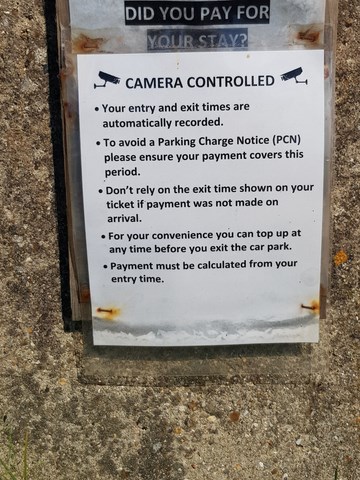 MOTORCYCLES ARE CHARGED DIFFERENTLY
See the picture at the head of this page for details.
KEEP YOUR TICKET/RECEIPT
You are advised to keep your proof of payment for 28 days. They are printed on thermal paper so keep somewhere dark (wallet or car glove box) as in direct sunlight it will fade quickly.
These may come in handy if there is any sort of dispute over timings etc.
---
Where to pay
There are the two payment booths which are towards the entrance to the car park.
The reverse of your ticket.
Read it carefully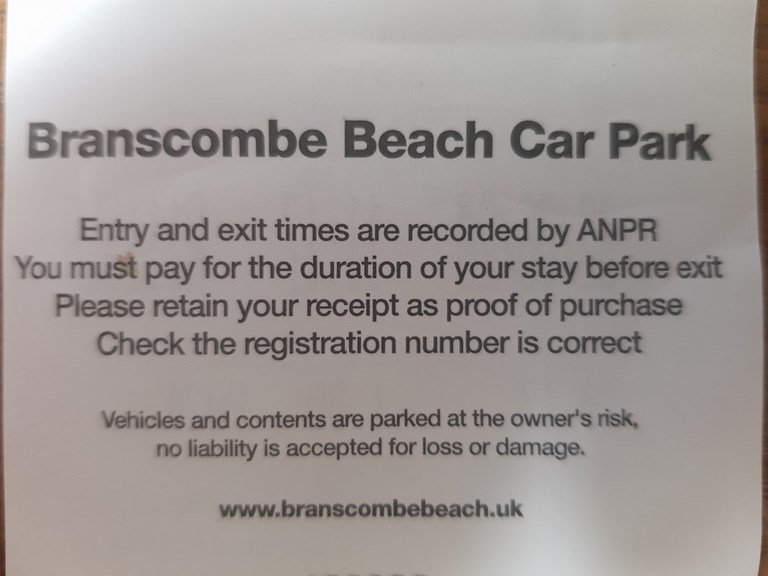 Your ticket - Keep it safe. No need to display in your car